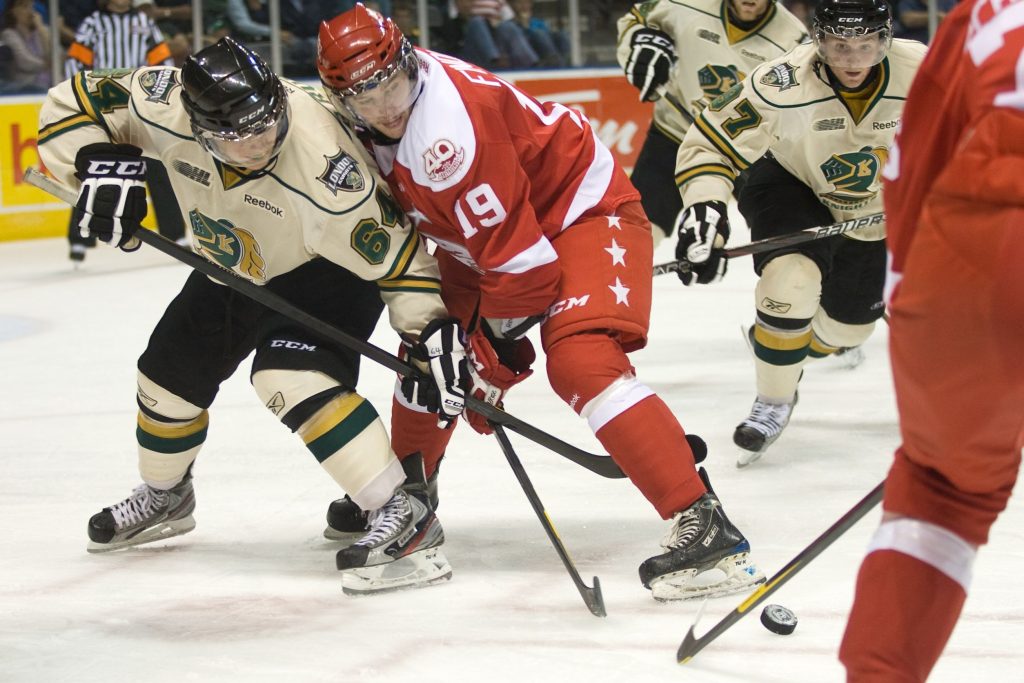 The first leg of the round of 32 in Champions Hockey League 2015/16 have been played and here you can read about the results.
Djurgården won against Växjö
One of two all-Swedish games was between Djurgården (from the capital, Stockholm) and Växjö (the current Swedish champions). Växjö started the game with fast play and some good chances but failed to convert. Instead, Djurgården could score in power play after 6 minutes of play. Marcus Sörensen scored from the blue line. Växjö got the chance with the man advantage as well, but failed. After 14 minutes of play, Djurgården scored their second goal of the game. This time it was Markus Ljungh who converted on a quick wrister. However, 10 seconds later Växjö reduced the lead to 1-2 through a wrister from Josh Hennessy. Funny thing, Hennessy's goal was almost identical to Ljungh's. The first period ended 2-1 in favor of Djurgården. In the second period the teams had some power plays each. Växjö kept being inefficient, both in power play and on the break away. Instead, Djurgården could get a two-goal lead in power play, after 15 minutes of play in the period. The overall play was kind of sloppy and five minutes into the third period, Erik Josefsson could reduce Djurgårdens lead to 2-3. However, Djurgården's answer came as quick as Växjö's 1-2 in the first period: Fredrik Forsberg scored 4-2 in a quick attack. The question is how focused the teams were and how motivated they are by the Champions Hockey League. The tournament has not quite reached the potential status as the soccer equivalent. Djurgården kept being sloppy in their defences. Växjö kept being ineffective. Richard Gynge failed to score on his second break away for the evening. Lithuanian goalkeeper Mantas Armalis was probably the best player on the ice and saved Djurgården quite a few times. Växjö could however reduce the lead to 3-4 which also became the end result. The return meeting is in Växjö October 6. Our guess is that Växjö will win at home and go through to the round of 16.
Luleå won against Färjestad away
The second all-Swedish game was played between current CHL champions Luleå and Färjestad. Färjestad, who had a failed season in the Swedish Hockey League last year, could not take advantage of their home ice. Luleå have set the goals of winning both CHL and SHL this year. 1:19 into the second period, Brendan Mikkelsson scored 0-1. A few minutes before the period break Toni Rajala increased the lead to 2-0. This was clearly Luleå's game. In the third period Johan Harju did a masterpiece that we have only seen names like Kent "Kenta" Nilsson and Peter "Foppa" Forsberg do earlier, which meant 3-0 and game over for Färjestad. All goals came in five-against-five. It is doubtful whether Färjestad will be able to turn this result to something positive up in Luleå (which lies in the northern part of Sweden).
All results
Below are the other results from the first leg. As we can see, the Swedish teams Linköping and Skellefteå lost their first game. Skellefteå will probably be able to win at home, but Linköping had a rough night against Michal Bulir who scored a hat-trick. The last Swedish team, HV71, played 2-2 against Oceláří Třinec. HV71 had 8 players on the injury list and had to play with one line consisting of only juniors, born 1997. They are probably resting their players which is a shame… In order for the CHL to grow, the best teams need to participate with the best players available.
Vítkovice Ostrava 0-2 Tappara Tampere
Espoo Blues 4-1 Adler Mannheim
IFK Helsinki 2-1 HC Davos
JYP Jyväskylä 2-2 TPS Turku
Bílí Tygři Liberec 4-1 Linköping HC
Lukko Rauma 5-3 Red Bull Munich
Oceláří Třinec 2-2 HV71 Jönköping
HC Košice 4-3 Skelleftea AIK
Sparta Prague 3-2 ZSC Lions Zurich
Färjestad Karlstad 0-3 Luleå Hockey
Red Bull Salzburg 1-3 Storhamar Hamar
Vienna Capitals 3-4 HC Litvínov
Düsseldorfer EG 0-2 Kärpät Oulu
Eisbären Berlin 3-0 Stavanger Oilers
Djurgården Stockholm 4-3 Växjö Lakers